Imagination Sandbox & Augmented Reality Play for Kids in Atlanta
We call this the mother of all sandboxes, but instead of getting inside of it, you play with your hands while standing outside the sandbox. It's the ultimate imagination sandbox in Atlanta and nearby Sandy Springs.
This sandbox applies augmented reality play. So, what exactly is multi-person augmented reality? It's an interactive design that combines technology with the real world, and multiple users can play with it at the same time!
This is an activity designed to spark imagination and creativity in your child. It's educational and exciting for you and your kids as you explore new worlds together.
As the kids move the sand with their hands, they will discover all sorts of creatures underneath. They will create rivers and ponds, put out fires, and save the world! While sand slips through tiny fingers, mountains are being formed and new bodies of water are being discovered.
This is innovative technology children can enjoy and learn from—their own hands are the tools of discovery.
Explore Augmented Reality Play with Your Kids
Our sandbox has a different theme every day. From sea life to dinosaurs to safari animals, your child will see it all in this sandbox. With digging and piling, transitions between day and night, and the ability to hold these creatures gently in their palms, this super cool light technology is used to inspire your child's imagination as they explore.
A sensor monitors any physical shifts in the sand and the projection makes adjustments based on the changes detected. The animals are transforming along with the sand, roaming where they belong within their natural habitats.
This activity is appropriate for children ages two and above. Parental supervision is required for all children.
Multiple themes mean there is always something new to explore:
Dinosaurs
Tyrannosaurus rex and triceratops roam the land as pterodactyls fly overhead. Lava spills from volcanoes while tiny hands unearth lagoons.
Safari
Hippos, giraffes, zebras, and more explore their habitat as your child digs watering holes and cradles some of the world's wildest animals in the palm of their hands.
Marine Life
Your child can lift up a handful of sand and find a lobster sitting in the center of it. Stingrays float across the ocean floor as sand dunes are created and watery depths are deepened.
Fossils
Calling all junior paleontologists! Your child can excavate what's underneath the surface, revealing fossils and learning more about the dinosaurs that once traveled the earth.
Bugs World
A grassy field that's home to bugs, bugs, and more bugs. Ants tunnel through the dirt alongside little hands, before crawling out from their ant piles while butterflies flutter past.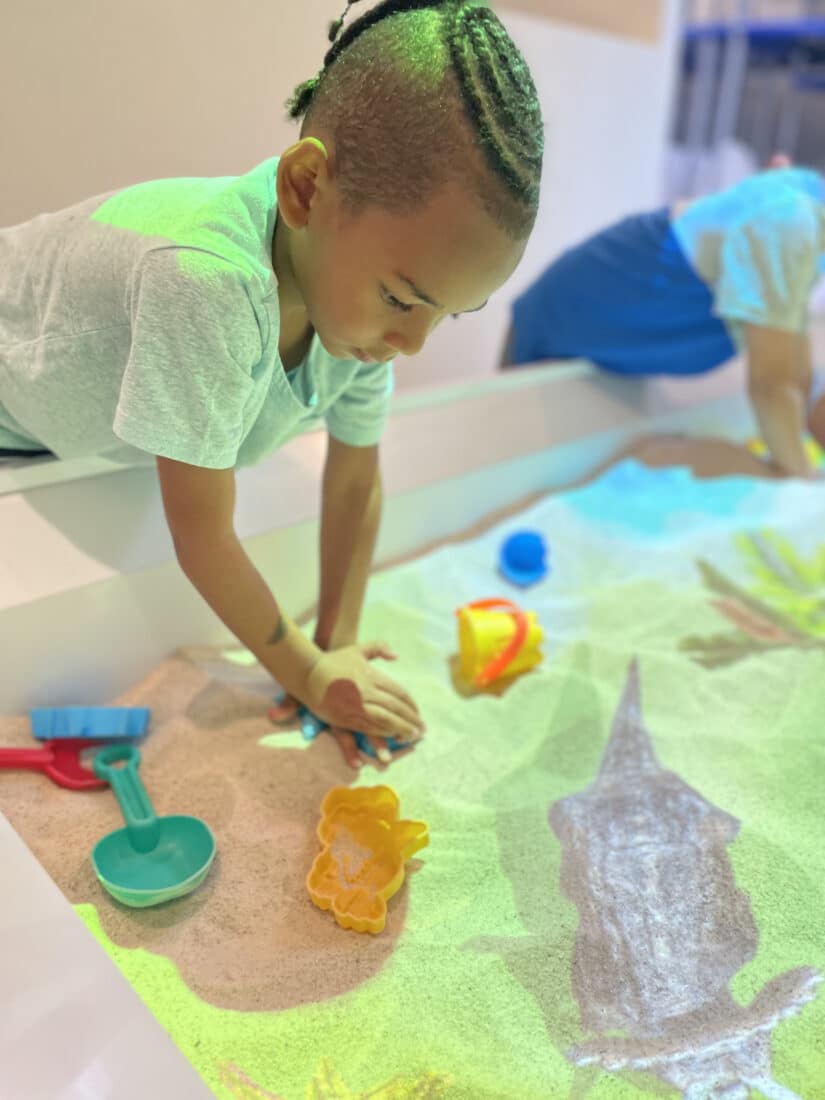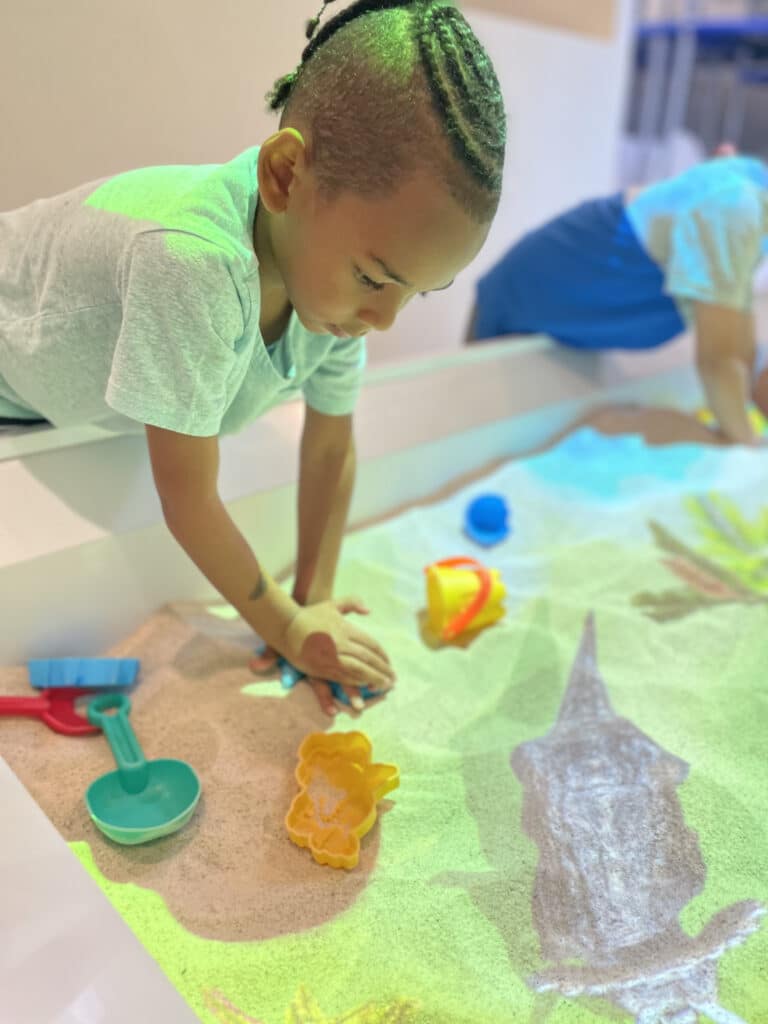 What Imagination Sandbox Play Teaches Your Child
It's an interactive experience that uses modern technology to create an environment just waiting to be shaped by your child's hands. Imagination sandbox play takes a typical sandbox and evolves it into a new, explorable territory through computer-generated projections. This makes it an exciting way for kids to learn and increase sensory skills through play.
Digital environments can be discovered through an interactive, ever-changing animated sandbox. It's never boring because your child always has the potential to create a new world!
Our indoor playroom enhances actual reality with augmented reality, which makes everything a sensory discovery. With elements of technology merged into real-world play, your children can now use their imagination in different ways. They'll learn about habitats and the animals who call these places home while interacting and sharing space with each other. They can feel in control of their own work by building a world and then discovering what lives within it through technology.
And sand on its own can be one of the best materials to play with! It's so malleable, ready to be shaped into anything. Sandbox play is a great way for your children to collaborate with each other. They'll work together as they dig into the places their imagination takes them. Playing in sand can also increase hand strength and develop important motor and social skills.
Our playrooms help develop creativity and self-expression through activity-based learning. Imagination play is a unique combination of artistry and technology, individuality and teamwork. Every child's experience is personal to them, even as they play as a group. Ready Set FUN! designed a unique space for elevated but convenient augmented reality play in the metro Atlanta area, so come check us out and see for yourself what everyone's talking about!
Contact us for further information on indoor play activities.