School's out—which means it's time for FUN!
If you're looking for ways to keep your little ones active and entertained this summer, Ready Set FUN! Day Camp is just the thing for you! We have an exciting few months planned for your kids!
Once school is no longer in session, our kids' day camp is held during the week from Monday to Friday with multiple different enrollment options! Join us for full weeks, short weeks, half days, or full days!
Our Mission: Bring convenience, luxury, and creative imagination play to children and families, simultaneously focusing on giving back to the community and supporting local businesses!
Camp Activities
Yoga
Here at Ready Set FUN!, we believe all children deserve to be empowered with the tools to develop a strong sense of self! Not only is Yoga a great exercise, but it helps all children develop focus, strength, flexibility, and concentration skills. Teaching our children to care for their minds from a young age will set them on the right path to a healthy life!
Music
In each Ready Set FUN! music class, your child is welcomed into a playful and nurturing environment where they will sing, move around, play instruments, and hear stories. Kids can join a circle of friends and get ready to have a fun sing-along party as they create their own rhythm and sounds. They will have the opportunity to experiment with different instruments. Give your child the lifelong gift of music while stimulating his or her overall growth and development!
Cooking
Let's get cooking! This is a super fun and engaging hands-on class where little chefs will get the opportunity to decorate food. During this activity, we focus on easy snacks and desserts.  Children will learn the importance of kitchen safety and gain confidence in the kitchen.
Gardening
Our gardening class provides opportunities for children to learn together and deepen their love of nature and our environment. We paint terracotta pots and plant a live herb.  Some of our potted plants include mint, oregano, and basil. Kids love to play in the mud–– why not use their affinity for dirt to introduce them to a productive hobby? Ready Set FUN! Gardening will inspire children to learn more about what they eat and where it comes from!
Dance
Get your little one up and moving by joining our Expressive Dance classes!  Dancing to music is one of the most effective methods of exercise for kids and helps improve balance and coordination at a young age! Kids get to be active through arm and leg movements while expressing themselves through music in an exciting group environment. They'll learn dance moves that are simple and fun for them to follow along with—maybe they'll even teach Mom or Dad a thing or two!
Agility
Let's face it, kids love to jump around.  With this activity, we help them channel their energy to improve their physical abilities.  They learn the basics of physical fitness, stretching, running, jumping, skipping, and other physical activities.  Perfect for burning excess energy before they come home!
Color Mixing and Painting
Color mixing is a fun activity with so many color possibilities that it never becomes commonplace. There's just something special about how two different colors can somehow combine to make a completely new color. It's a little like kids are crafting magic, while also learning all about primary and secondary colors.
Seasonal Crafts
Our team has crafts for every season and we're always coming up with new fun ways to help kids' creativity shine. Holidays like Valentine's Day, St. Patty's Day, and Halloween have so much decorative potential. Seasonal crafts for Spring and Summertime are made up of blooming flower drawings, bumblebee art, and other projects that bring even more sunshine to these seasons.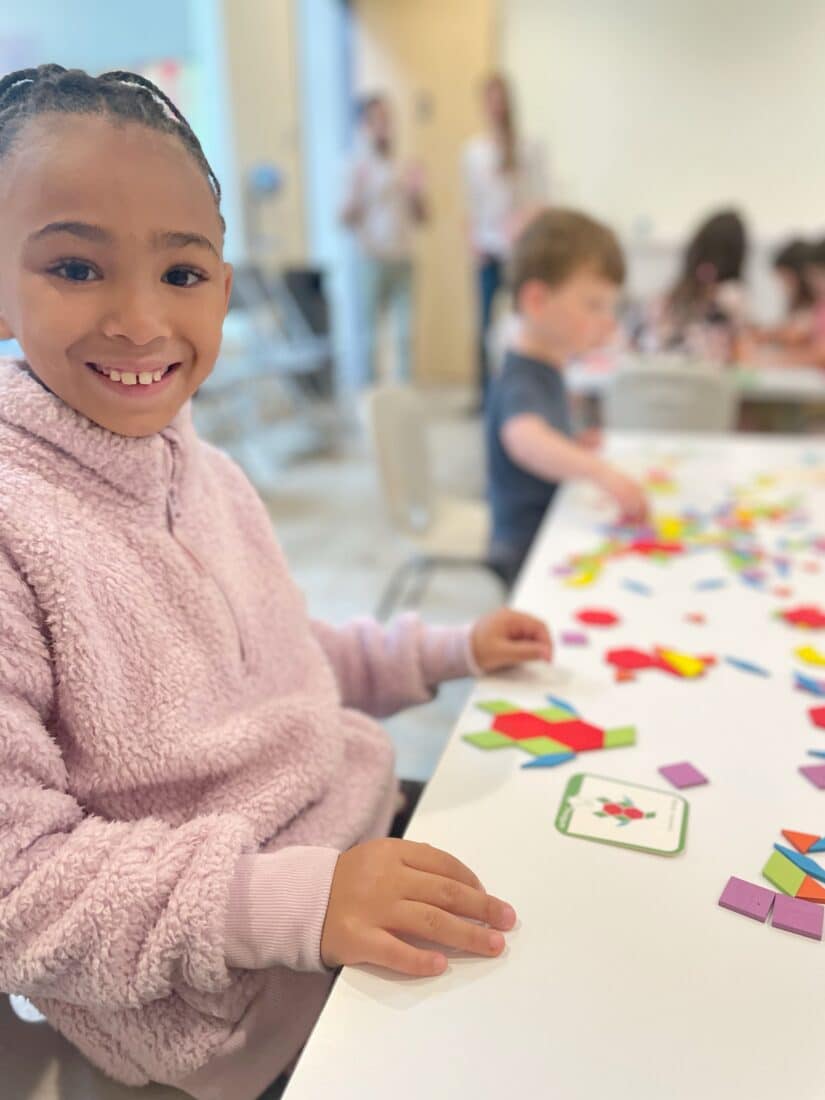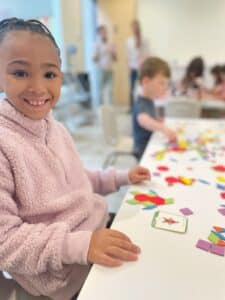 Benefits of Camp
We're huge proponents of the benefits kids will experience by attending summer camp. Not only does it give parents a break during summer to run errands or take some time for themselves, but it also helps kids figure out how to be on their own away from mom and dad!
Camp helps toddlers and kids develop important social skills while making new friends, staying active, and most of all having FUN!
We've created a wonderful space for active play, imagination, learning, and socializing which is so important for the continuous development of skills over summer!
Ready Set FUN! is all about activities kids can have fun with and everything we do is based on learning!
Day Camp Rules
Camp runs on select days when school is out from 9 am-1 pm each day. Children must be 3+ years of age and potty trained.  Light lunch or snack is provided.  No outside food is allowed with the exception of children with allergies with prior notification.   Make-up sessions are not available for camp.
Camp sales are NON-REFUNDABLE and NON-TRANSFERABLE.
Your child can be dropped off 10 minutes prior to the start of camp through a carpool. You must pick up your child on time. An additional fee of $20 will apply for every 30 minutes of late pickup, including within the first 30 minutes of the camp end time.
Bad behavior is not accepted in any form and, if it occurs, we'll have to contact you to pick up your child immediately. This includes any form of physical altercation with another child, as well as vandalizing or destroying play equipment.
To find out more about day camp, give us a call at (404) 596-5566, email us at contactus@readysetfun.com, or contact us online.